CIRA (Canadian Internet Registry Authority) was founded as a not-for-profit in 1998, to become the official .ca domain registry for over 1.5 million .ca domain names. CIRA currently handles 3 billion .ca queries per month. CIRA is a not-for-profit group that actively represents Canada for secure and equal access to Internet for all Canadians. CIRA offers a number of products, but one of particular interest to the ORION community is CIRA's D-Zone Anycast DNS product.
As part of our standard package, ORION helps improve the availability and reliability of our community's connection by  offering CIRA's Anycast DNS service. Through this program, ORION constituents get a high-availability global DNS that is resistant to DDoS attacks. It is a risk-free and easy-to-add secondary DNS service that helps shore up the cybersecurity posture of our entire community. 
---
CIRA is one of many service partners part of ORION's shared IT services, for Ontario's research, education and innovation communities. Discover the benefits of these services:
Network-based
All ORION cloud-based services are delivered over the ORION network, so there is no need for additional connectivity, WAN services or transport. Access services through your existing ORION connection.
Service Level Agreements (SLA)
Each ORION partner provides an SLA to cover all aspects of the service, including performance measurement, problem management, customer duties, warranties, disaster recovery, and termination of agreement.
Made in Canada
All ORION cloud services are hosted in Canada and delivered from within Canada. No data is stored in the USA or traverses the US border.
Performance
ORION can guarantee service delivery over the ORION Network, which is dedicated and private, meaning that customer traffic does not cross the Internet. ORION's high-performance network serves as the backbone over which ORION Nebula services travel, which easily scales to speeds up to 100Gbps.
Easy to Use
Each shared IT service is easy to understand, purchase and implement.
Competitive Pricing
ORION's commitment with its partners is to deliver cost-effective services, so customers can enjoy a competitive rate.
Best of Breed
ORION's rigorous partner selection process ensures that each service provider is vetted from a technical, financial and business perspective so that ORION can deliver the best customer experience. Each service provider must have a proven track record and demonstrate successful implementations of the size, scope and quality that ORION customers require.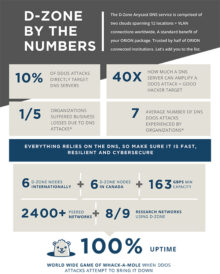 Click to download the infographic of how CIRA's D-Zone can help you.